Old Gringo Boots Retailers | Old Gringo Boots Online
Looking for an Old Gringo Boots retailer online? RiverTrail Mercantile has a large selection of hard to find Old Gringo Boots. At RiverTrail, Old Gringo has become a household name. Buyers are immediately drawn to the distressed, vintage leather and intricate designs used in the making of an Old Gringo Boot. Having carried Old Gringo for five years, RiverTrailMercantile.com is very well versed in the brand. RiverTrail buys unique designs from Old Gringo, making sure to keep best sellers in stock as well as add fresh new fashion boots to the collection every season.
Leopard Print Old Gringo Boots are always a best seller at RiverTrail. While we stock several colors in the Leopardito Old Gringo Boots, one of our all time favorites is the Villa Boot (L060-99). Old Gringo makes boots in several different heights, and one of our favorite features of the Villa Boot is the 10-inch shaft, which makes them easy to wear all year long. The Villa Boot also features a popular Old Gringo toe and heel combination. The toe is referred to as "0," which means it comes to a sharp point. The heel is called "9964," measuring 1 & ¾ inches, making walking a breeze. Then there is the flawless design – mossy green, brushed leopard print leather with brown wing tip accents. RiverTrailMercantile.com is proud to carry the Old Gringo Villa Boots!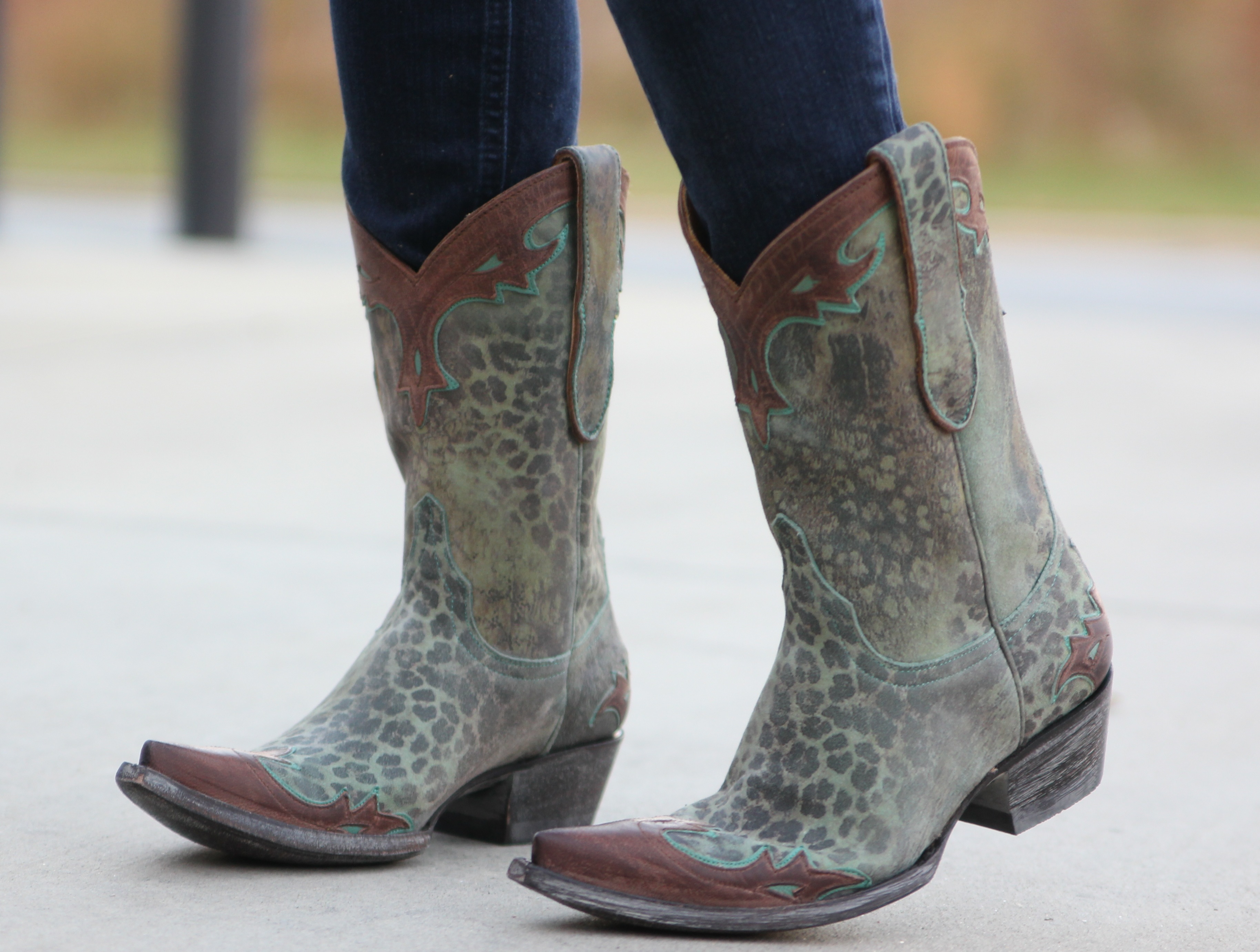 Old Gringo keeps best selling styles in stock that we can order for shipment within a week, but at RiverTrailMercantile.com, we love to buy production boots. An Old Gringo production boot is made to order, making the style more unique and exclusive to buyers. If you buy an Old Gringo production boot at RiverTrail, the chances of seeing the same boot on another gal is slim to none. Take the Old Gringo Marrione Boots (L836-11). This particular color combination takes up to 90 days to make. Notice the intricate embroidery – this is something Old Gringo is famous for. The Marrione Boots stand 13 inches tall (standard cowboy boot height), feature a snip toe (4Long in Old Gringo terms), and 9964 heel (remember, that's 1 & ¾"). If you love to buy unique, one of a kind products, consider purchasing the Old Gringo Marrione Boots from RiverTrailMercantile.com!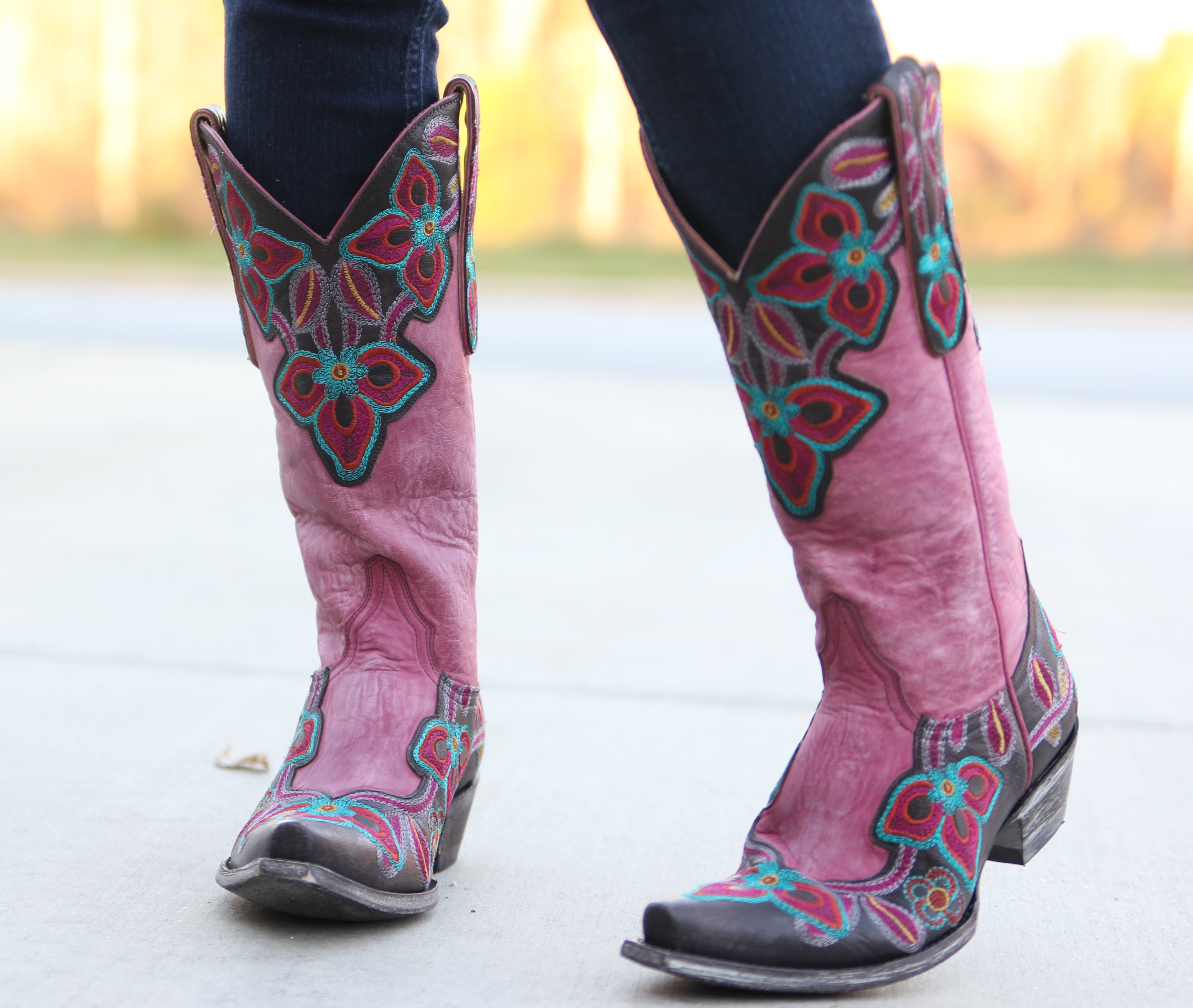 Any time Old Gringo designers add hardware to a boot design, RiverTrail instantly falls in love. How amazing are the Old Gringo Raelene Boots (L1244-4)?! These purple and green beauties are decked out with large and small silver studs, adding a third dimension to the design. The colors are crazy, the studs are bold, and overall the Raelene Boots rock! This might not be a boot we suggest to a first time Old Gringo buyer; however, for the Old Gringo collectors, these boots are a must have! RiverTrail carries the Raelene Boots, which are made to order, in the 13-inch height with the 9964 heel and 4Long toe. Again, when it comes to Old Gringo, RiverTrail buys boots with wow factor!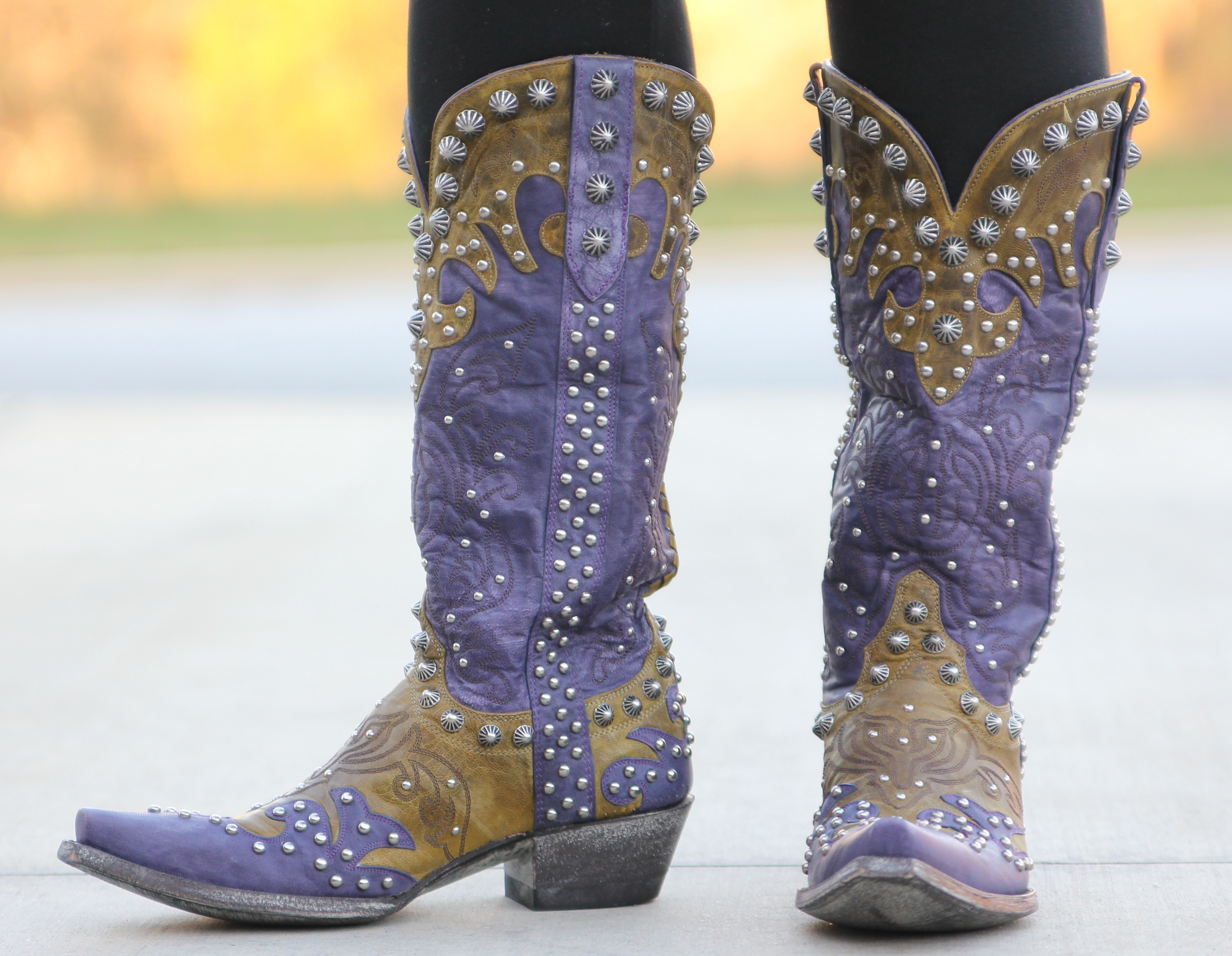 If you're looking for a large selection of both best selling and hard to find Old Gringo Boots, consider placing an order at RiverTrailMercantile.com. Be warned though, the boots are highly addictive! While Old Gringo is an expensive brand, we have found (both personally and from working with customers) that the boots are worth every penny! If you love a good Old Gringo sale, definitely take a look at RiverTrail's Close Out section for great prices. If you have questions about Old Gringo Boots styles (fit, color, design, special orders, etc.), feel free to call RiverTrail at 336-998-8800. As an Old Gringo Boots retailer, RiverTrail is more than happy to take care of customers who live by the slogan, "Life is better wearing Old Gringo!"