What to wear with Cowboy Boots | Dresses for Cowgirl Boots
What should you wear with cowboy boots? When Spring weather rolls in, the most exciting fashion trend (as far as we're concerned) is the combination of cowboy boots and sundresses. If you're wondering how to wear boots and dresses, we have some suggestions, but urge you to remember that anything goes. Whether you choose to toss on a cute mini dress with taller boots, or a long maxi dress with short booties, confidence is the key ingredient to achieving a polished look with a country twist. Check out four of RiverTrail's favorite boot/dress combos!
White Sundress with Cowboy Boots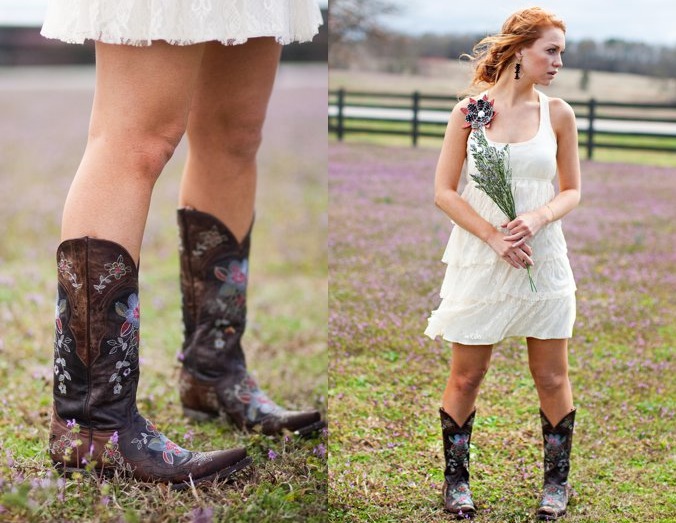 This just might be our favorite look. We have paired an adorable, classic white lace sundress with our ever-popular Old Gringo Bonnie Boots (L649-1). If you like the fun sophistication of this look, we suggest shopping for boots with versatile colors that will compliment your sundress collection. The embroidery colors on the Bonnie Brass Boots are not only a fabulous match for this lace number, but for several other colors like red, blue, gray, and even black. This boot and dress combo is perfect for country music concerts, engagement parties, or girls night out.
Don't be afraid of Colorful Boots and a Colorful Dress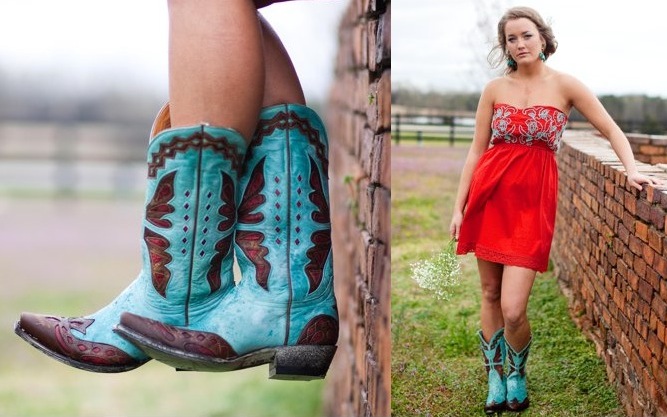 If you've got a colorful personality, you're probably drawn to our next look featuring a bright red dress and the Old Gringo Monarca Aqua Boots (L026-37). This is a fabulous color contrast, and we love how the red dress brings out the red leather in the butterfly design on the boots. Can you only wear these boots with a red dress? Absolutely not. Believe it or not, the Monarca Boot plays beautifully with several colors, even a little black dress. If you're considering this colorful look, be prepared for lots of attention.
Short shaft Boots with Short Dresses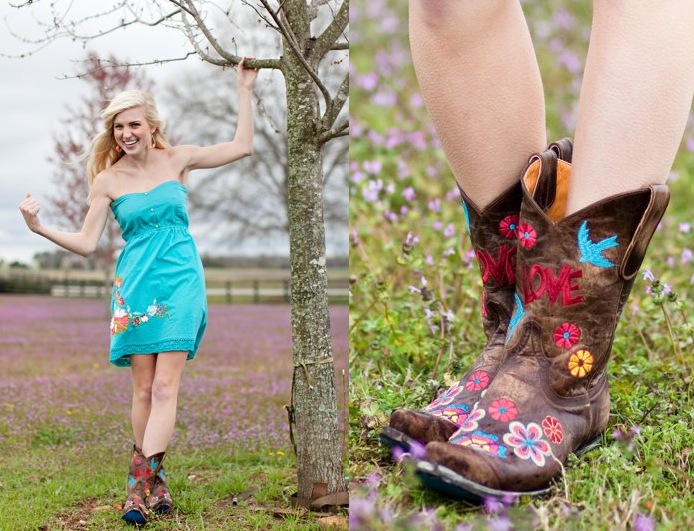 Ladies ask us a lot if the shorter shaft boots look good with a dress, and the answer is yes. Shorter boots, like the 10 inch Old Gringo Checruda (L503-4), not only keep you cooler during the warmer months, but they also give the illusion of longer legs. When you add a short cowboy boot as your sundress accessory, the look instantly becomes more fun and laid back. Whether you opt for a multicolor undersized boot like the Checruda or a short, solid color cowboy boot, you'll have a blast pairing them with maxis, minis, and every dress length in between.
The Maxi Dress and the Cowboy Boot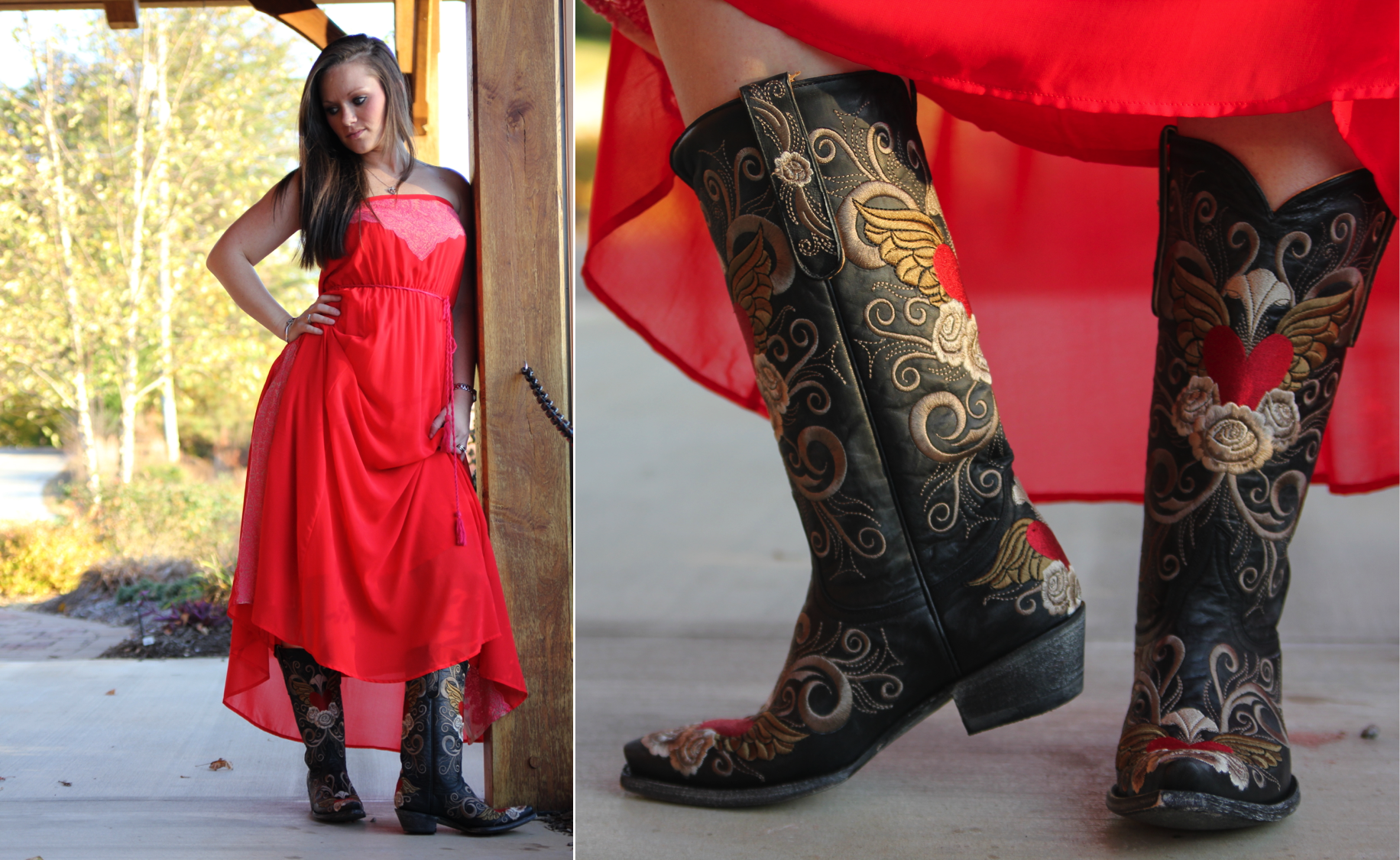 Every girl loves a pretty maxi dress, which she normally pairs with heels or sandals. At RiverTrail, we love the idea of pairing a long flowing maxi dress with a pair of cowboy boots. Because a maxi dress has a hippie feel, we would suggest finding a boot with the same bohemian vibe. For example, pictured is the Old Gringo Grace Boot in Black (L639-1), which screams flower child. The whimsical wing and heart combination plays so well with the carefree look of the full-length dress. Even though you're not showing much skin, this look is super flirty, and we guarantee every onlooker will ask to see the entirety of the fabulous boots under your dress... peek-a-boo!
If you have further questions about particular cowgirl boots at RiverTrail and how they might pair with a dress, email Lauren at rivertrailmercantile@gmail.com.