New Old Gringo Boot Styles | Latest From Old Gringo
Shopping for new styles of Old Gringo Boots? Several new styles from Old Gringo Boots will be arriving to RiverTrailMercantile.com within the next few months! RiverTrail is always excited to see what Old Gringo designers have cooked up. The Old Gringo Boot Company does a brilliant job of mixing cutting edge fashion with classic country style. From killer embroidery and bold colors to fresh hardware and soft leather, the new Old Gringo Boot styles are a beautiful sight to see! Remember, Old Gringo Boots are handmade, and the styles featured on this blog are a bit more exclusive, which makes them very unique. Each of the Old Gringo Boots featured here is available for pre-order at RiverTrailMercantile.com!
Old Gringo Nadia Boots L1642-1

The Old Gringo Nadia Boot L1642-1 was one of the first styles RiverTrail saw at market this year, and we went crazy for her! While the design looks like embroidery, it's actually a new laser process for Old Gringo. The black, floral, lace-like, pattern pops right off the distressed gray-wash leather background. Old Gringo designers made the Nadia Boots for ladies with pure class. The boot design is whimsical and flirtatious, and these Old Gringo's are just dying to be paired with a little black dress! The Old Gringo Nadia Boot is marked at $460 – a fabulous price for this brand! We promise she is worth every penny!
Old Gringo Erin Red Boots L640-17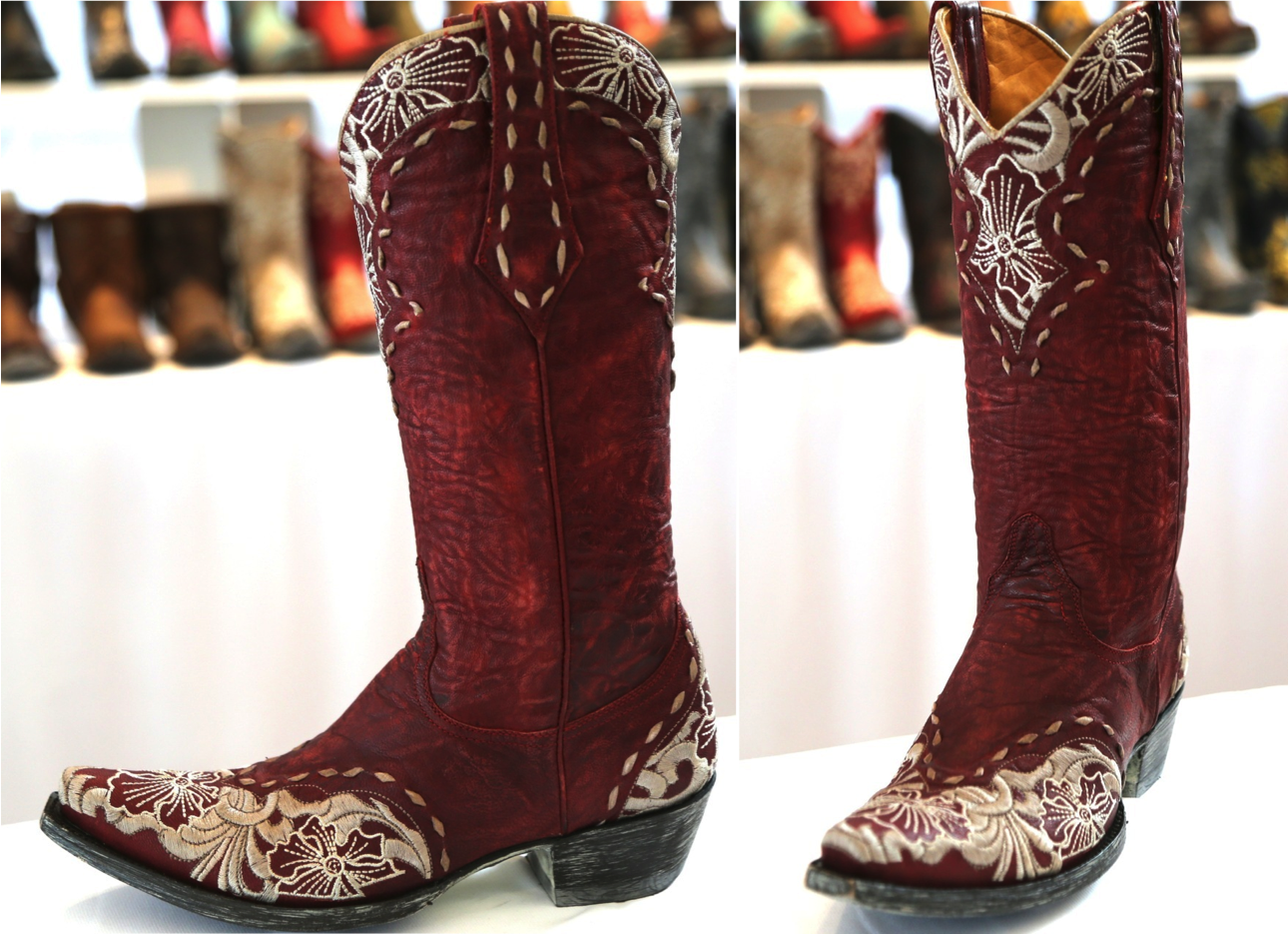 The Erin Old Gringo Boots are a very popular style at RiverTrail. She comes in several different color combinations. The new color this year is the Erin Red Boot L640-17, which is decorated with gorgeous white floral embroidery. Every girl needs a great pair of red cowgirl boots, and these Old Gringo Boots are a fabulous choice. The Erin Red is very versatile as you can toss them on with boot cut jeans and show off the fabulous toe design, or you can rock them with a beautiful white lace dress. The Erin Old Gringo Boots would also make a fabulous pair of wedding boots! However you choose to style her, one thing is for sure; Old Gringo designers did a beautiful job with the intricate details on the Erin Red Boots!
Old Gringo Olivia Boots L1629-3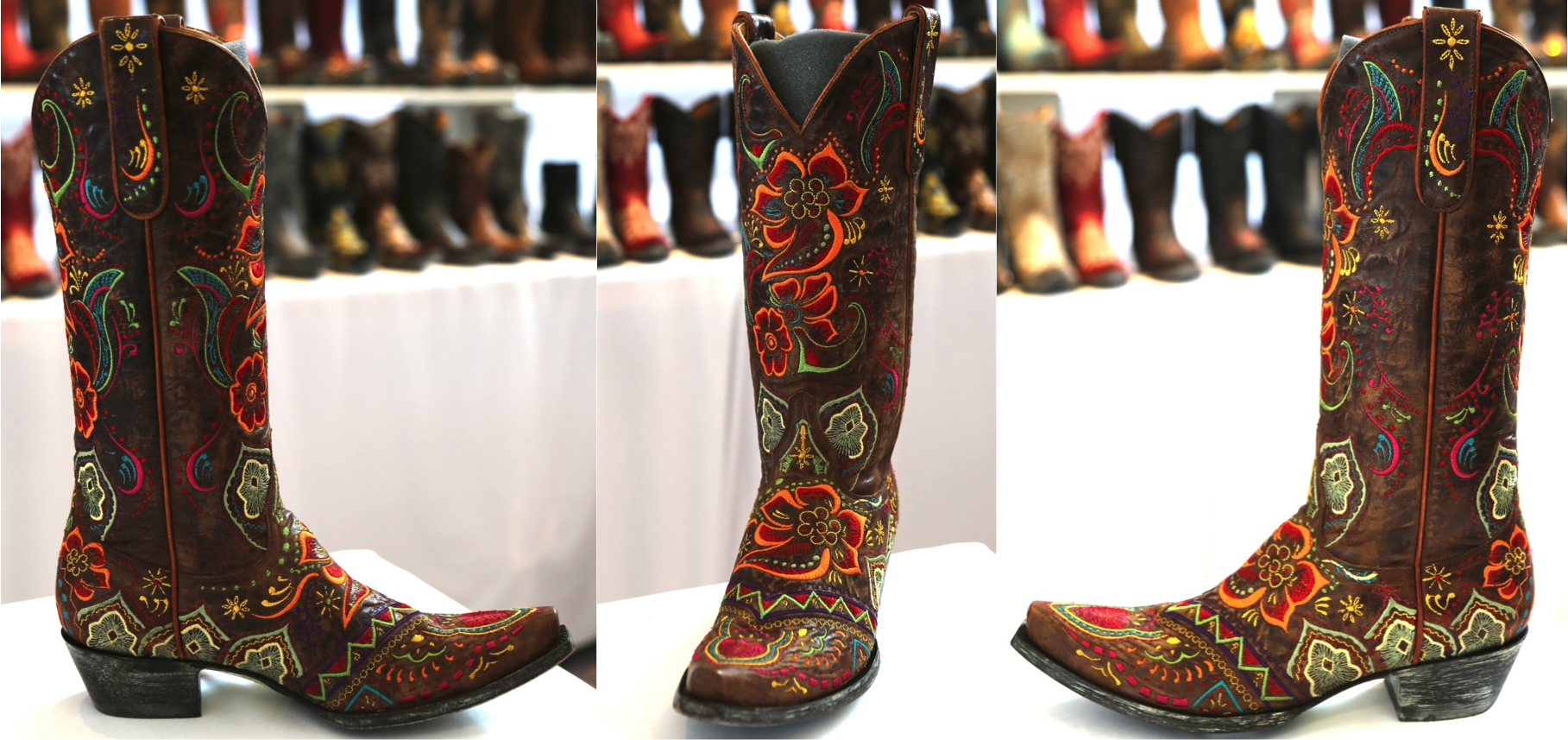 There is only one word to describe the Old Gringo Olivia Boots L1629-3 – AMAZING! Old Gringo designers went above and beyond with this new style, creating a beautiful work of art that you can wear on your feet! Old Gringo Boots are well known for their intricate embroidery and unique patterns. The Olivia Boots are no exception – bright, bold colors create a whimsical, floral design that is sure to turn heads. This pair of Old Gringo Boots is not a style you will see on very many women – only the ones who are not afraid to make a statement. Anyone can wear a plain pair of cowgirl boots, but it takes a confident gal to rock the Olivia Boots!
Old Gringo Oh My God Turquoise Boots L1656-1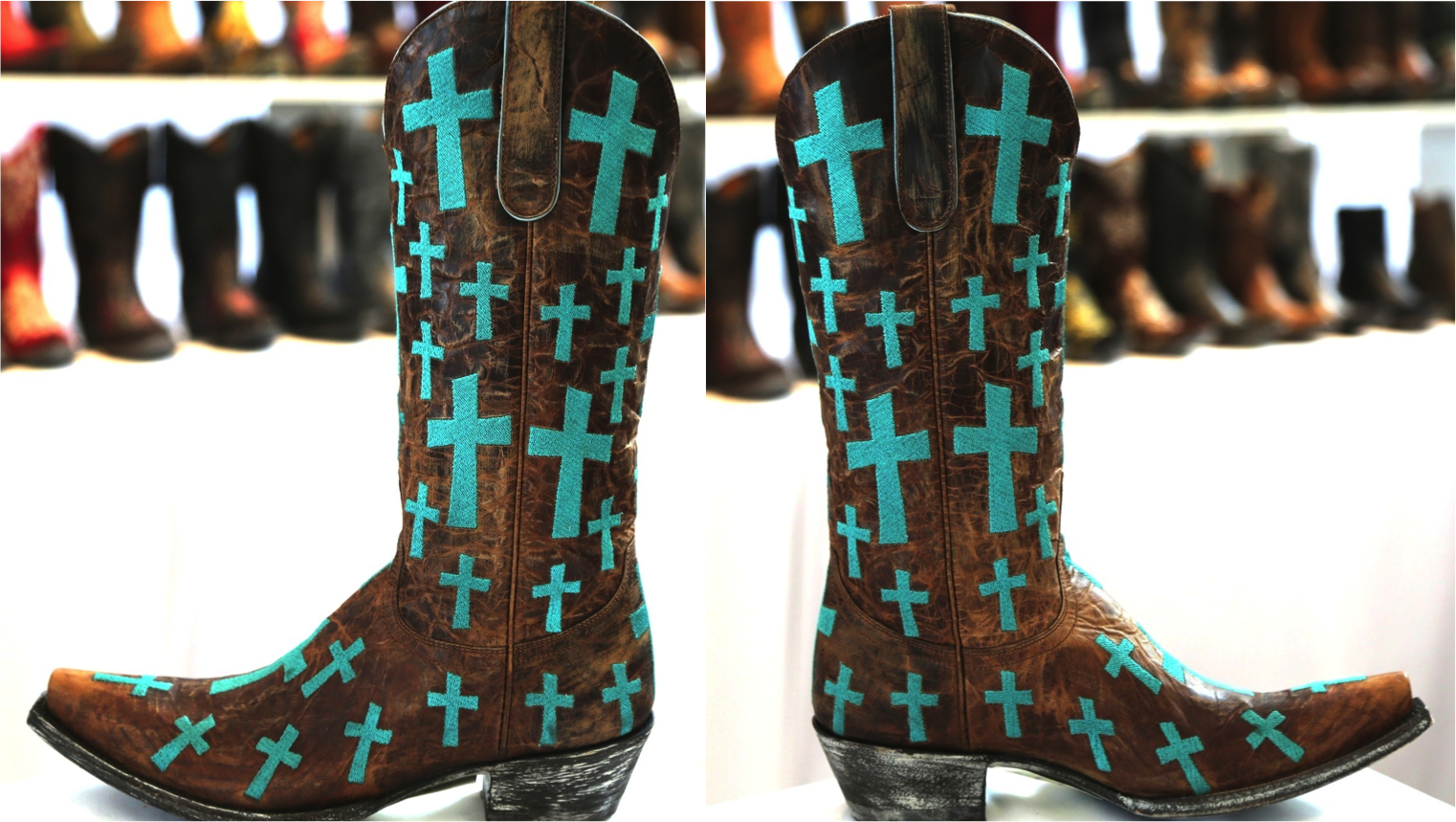 The Old Gringo Oh My God Boots have been available in two different colors at RiverTrailMercantile.com for a while now. It is a best selling boot style, so it's no wonder we were quick to pick up the Oh My God Boots in Brass and Turquoise L1656-1! Crosses seem to be a staple design on western boots, and we love the beautiful, bright turquoise crosses that decorate these Old Gringo Boots! RiverTrail's other colors in the Oh My God Boots have a higher heel and rounded toe, but these new Oh My God Old Gringo Boots have a snip toe, and lower 1 & ¾" heel. We see these cowgirl boots paired with fun dresses in the Spring and Summer, then worn with skinny jeans and flowing tops for the Fall. Our customers always say OMG to the Oh My God Old Gringo Boots!
Click here to shop all new Old Gringo Boot styles at RiverTrailMercantile.com. For all pre-orders, please note that your credit card is charged immediately for the purchase. If you have questions or concerns about new Old Gringo Boots styles, please call (336-998-8800) or email (rivertrailmercantile@gmail.com) us for more information.