New Corral Boot Styles | Latest Corral Boots
If you're shopping for the best new Corral Boot styles, look no further than RiverTrailMercantile.com! RiverTrail just received several new boot styles from the Corral Boot Company. Designers at Corral Boots create new and exciting western boots every season. We love that anyone can wear Corral Cowgirl Boots. Whether you really live life in the country or simply love western influence for your wardrobe, there is something for everyone in RiverTrail's new Corral Boot collection. Enjoy browsing and shopping the latest Corral Boot styles featured on this blog!
First up are the Corral Brown Black Wing and Cross Boots A1241. Sure, we have seen the Wing and Cross design from Corral Boots in the past, but these new beauties have a couple fun twists! Take the boot colors for example - they are completely versatile. The Wing and Cross design is etched in gorgeous ivory thread, which pops off beautifully from the distressed brown leather background. Then there is the underlay on the wings, which is made with dark black, shiny sequins. This extra sparkle really brings the boots to life! These Corral Boots will be fabulous during any season and they will be in style for years to come!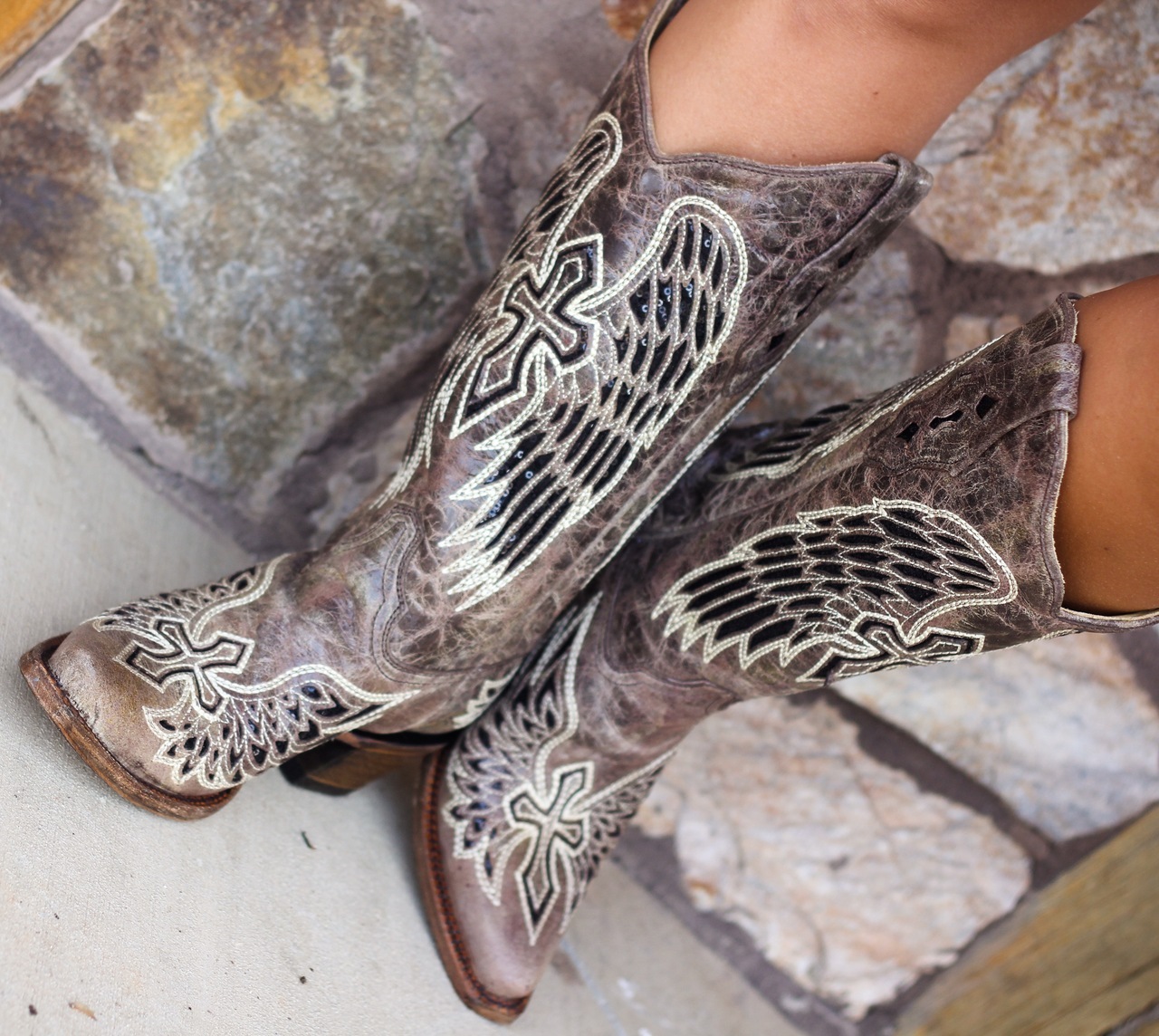 The next new style from Corral is the Sand Cognac Laser Overlay Boot A2665. These cowgirl boots are so very classy! The overlay design, made from beautiful distressed brown cognac leather, has a lace like pattern. The underlying boot color is sand, which has a grayish bone tone. You'll get a little extra bounce in your step as this pair of Corral Boots has a higher undercut heel, measuring 2.5" high (measurement taken from the side of the heel – from the back, heel is 3" high). You'll love tossing these boots on with skinny jeans and leggings during the cooler months. We also think the Sand Cognac Laser Boots will look gorgeous with a little black dress or your wedding gown! These new Corral Boots are a great pick for the classy cowgirls!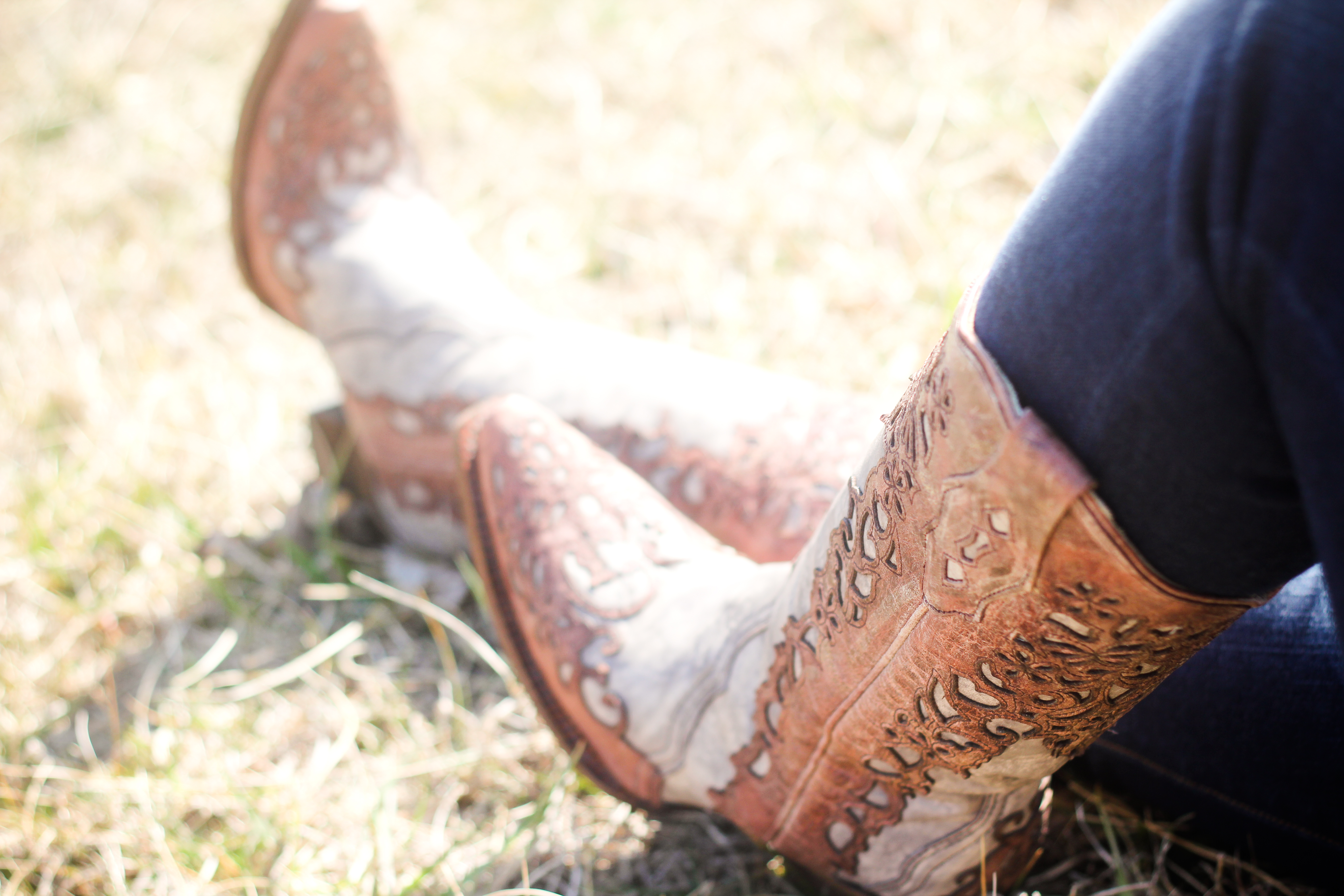 Finally, we have the Corral Black Full Studded Boots C2791. These Corral Cowgirl Boots are super edgy! We love the bias cut, meaning the boots come up higher in the front than in the back. Bonus – this type of cut makes your legs look slim and trim! These soft, distressed black leather boots are adorned with funky silver studs, some circular, others coming to a point. Slipping into these beautiful boots will be a breeze as they come with side zippers! The Corral Black Full Studded Boots are for ladies who love to add a little rock and roll to their country! You'll love wearing them for date night when you feel a little dangerous and they will look fabulous at every country music concert on your Summer schedule!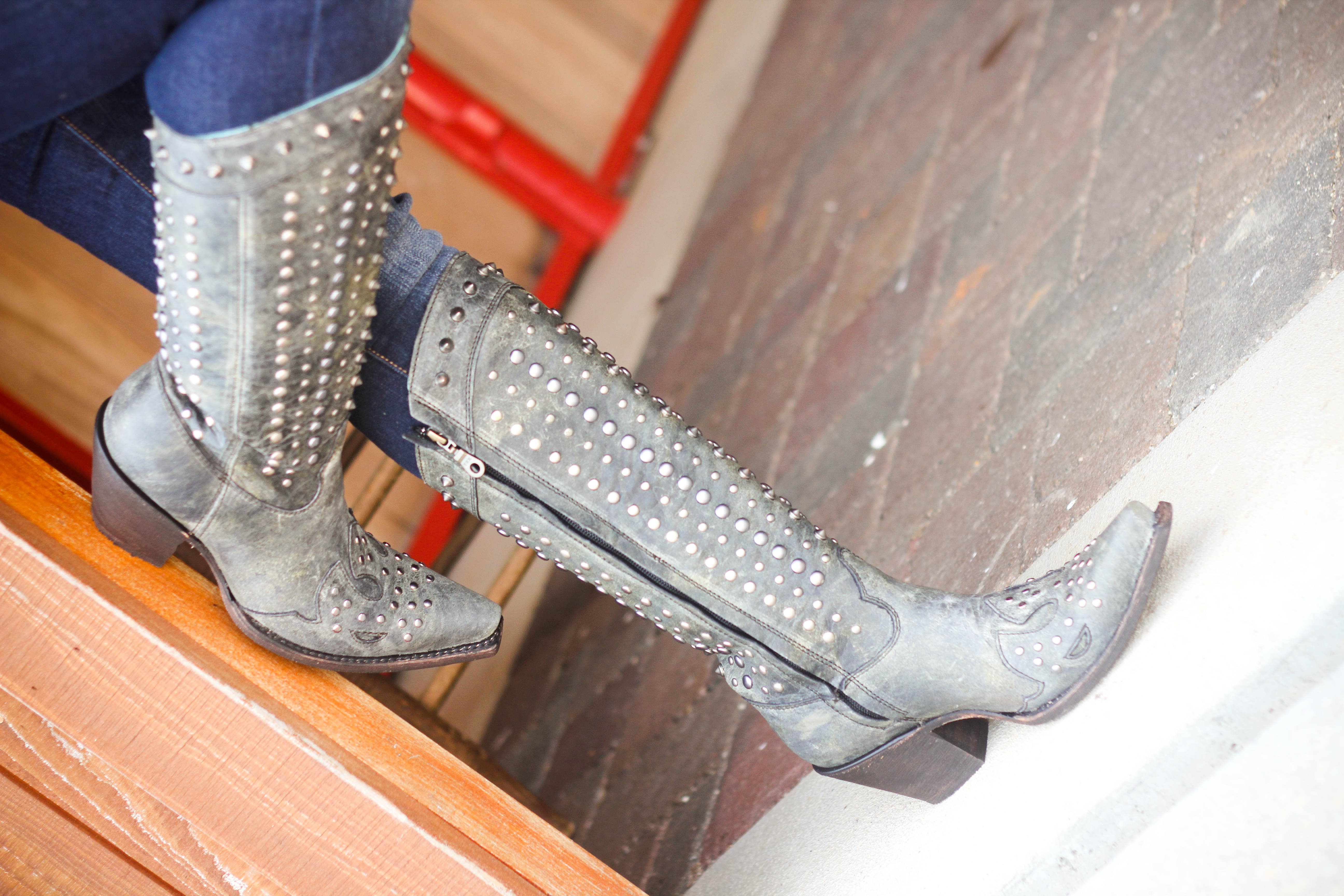 Click to shop all new Corral Boot Styles. If you have any questions about specific Corral Boot styles as far as fit, colors, measurements, etc., please call (336-998-8800) or email (rivertrailmercantile@gmail.com) RiverTrail!