Buy Bed Stu Cowboy Boots | Bed Stu Boots
Bed Stu Cowboy Boots just arrived at RiverTrailMercantile.com! Made from super soft distressed leather, Bed Stu is not only comfortable but also very stylish. RiverTrail loves vintage looking cowboy boots – there is something so cool and relaxed about the imperfections on the Bed Stu Boots. The majority of the styles we selected are made in Leon, Mexico. We also purchased a couple Bed Stu leather Handbags, which just so happen to match two of the boot styles we carry. Enjoy shopping the new Bed Stu cowboy boots at RiverTrail!
Bed Stu Rubic Boots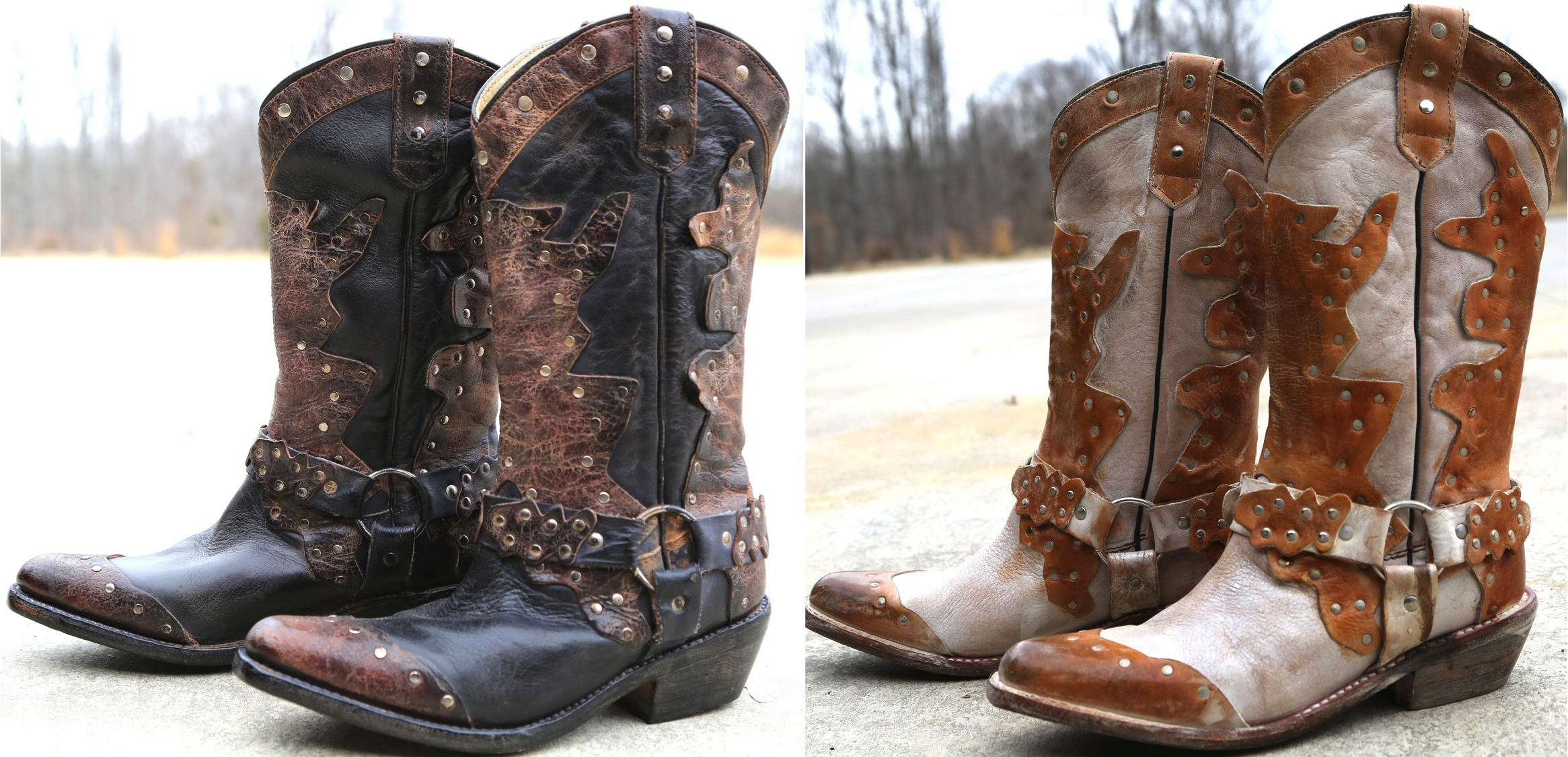 We adore the Bed Stu Rubic Boots, available in both black and tan! First of all, two-tone boots rock – adds extra personality and the ability to toss on a variety of colorful outfits. The harness on the Rubic Boots is one of our favorite features as it adds just enough western edge. Bed Stu designed the Rubic Boots with an extremely comfortable toe – we would describe it as a rounded square. And the boot heel is so easy to walk in! Wait, did we mention the Rubic Boots have studs?! Because they do! Whether you opt for the darker pair, or prefer the light tan, the Bed Stu Rubic Cowboy Boots are a winner!
Bed Stu Valencia Boots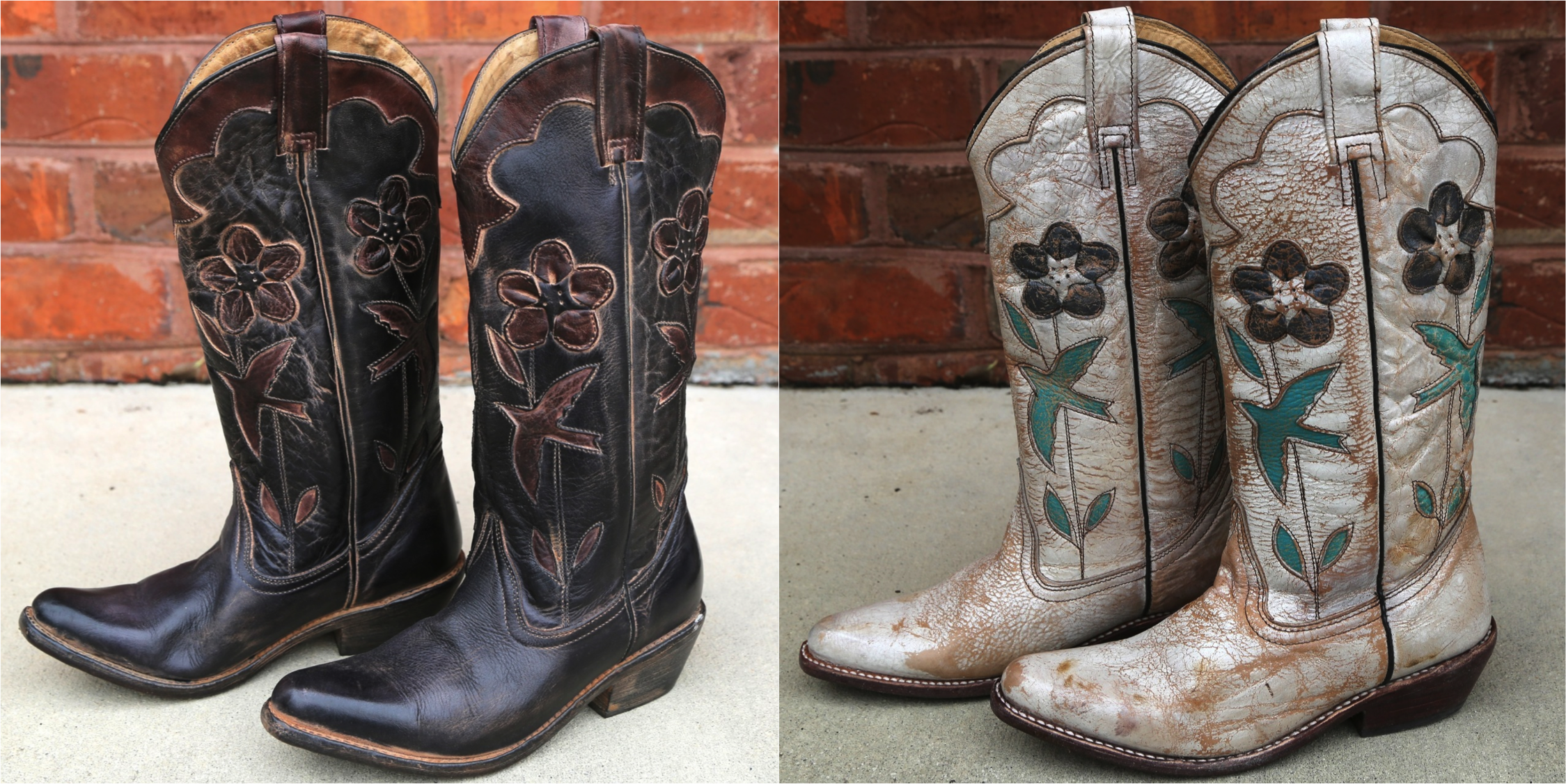 Next up are the Bed Stu Valencia Cowboy Boots. We cannot get enough of the adorable design on these boots. Flying doves and flowers – a hippie girls boot dream! Again, you'll have your choice between dark black or light bone. The Valencia is such a fun boot – they will look great paired with sundresses for warmer months, but you can totally carry them into Fall with skinny jeans! If you love a little color, definitely consider the Valencia Boots in Bone as the flying dove is done in a beautiful turquoise!
Bed Stu Tango Boots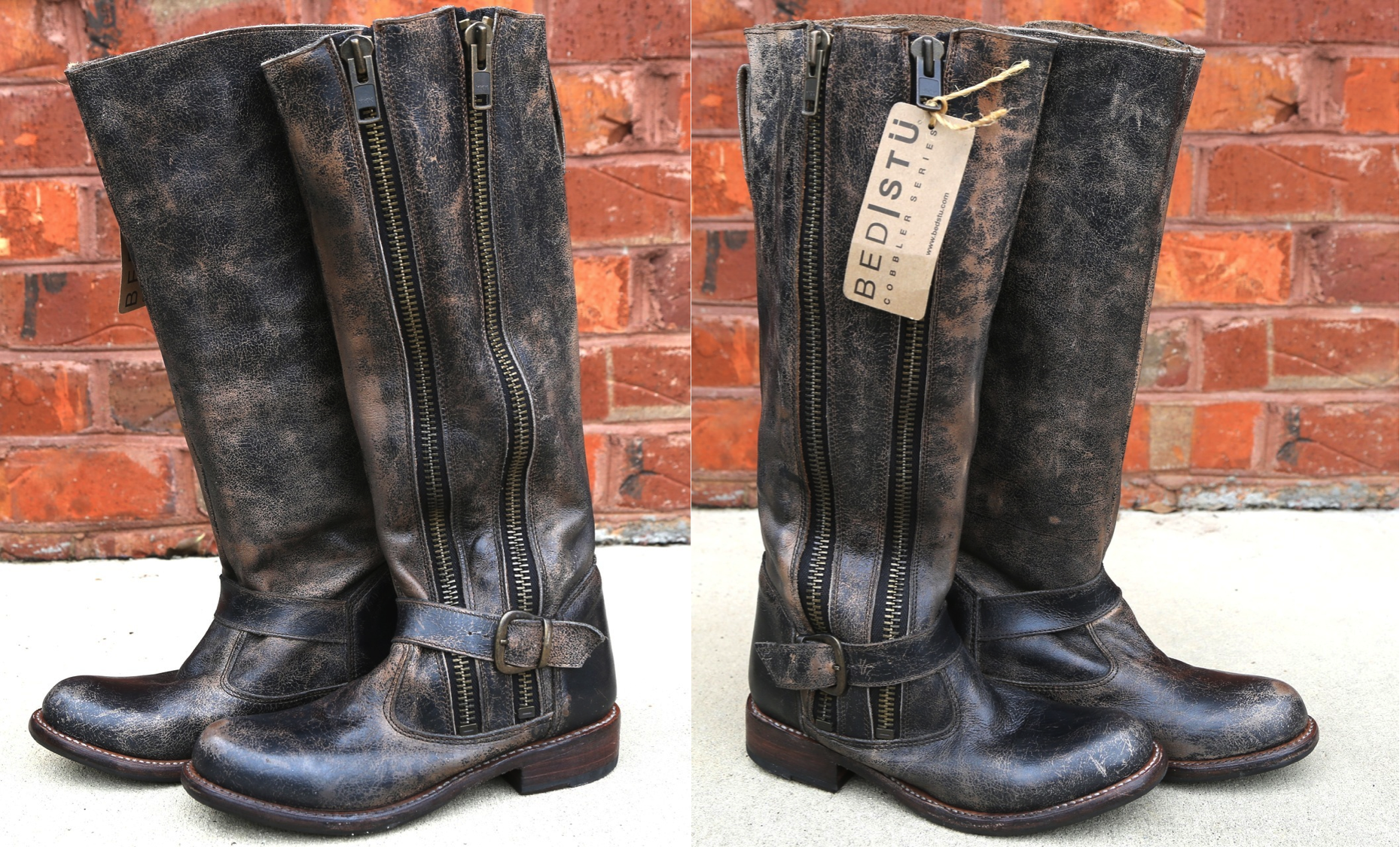 Getting the Bed Stu Tango Boots to stand up for a photo was so tricky. Why? They are so super soft that they literally fall over if they aren't on your feet! The leather used for the Tango Boot is absolutely amazing! These rugged boots stand 16 inches tall. Worried you can't wear them because you've got big calves? Don't be! My name is Lauren – I tried these boots on the minute they came in – My calves measure 16" around at the biggest part. The Tango Boots fit like a dream! I even had extra room to spare. The double zippers and adjustable buckle on these Bed Stu Boots is what makes them a great fit for any gal. The Tango Boots will look awesome with skinny jeans and leggings for the Fall. We also see them paired with a flowing white dress for Spring – mixing edgy with feminine is so much fun!
Bed Stu Cube Handbags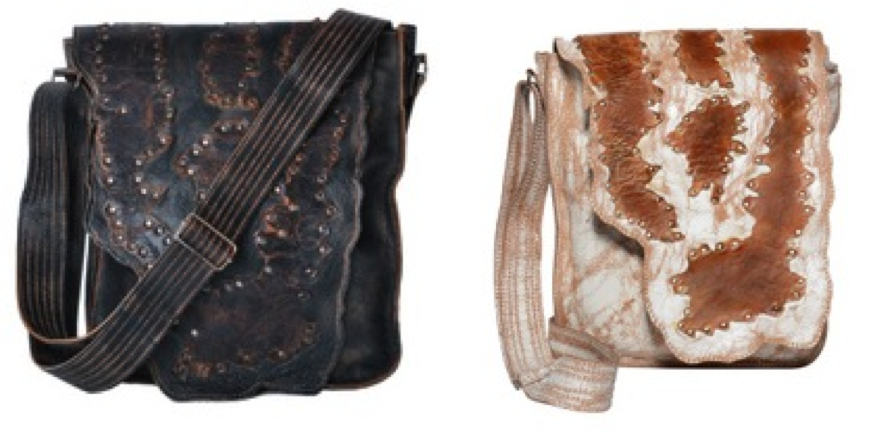 The Bed Stu Cube handbags match our Rubic Cowboy Boots! Available in bone and black, the Cube bags are all leather, beautifully distressed, and designed with western influence in mind. Made with adjustable straps, you'll love using this cross body bag for everyday wear or traveling. These Bed Stu bags are gorgeous!
Extra Info
RiverTrail has found that the Bed Stu Cowboy Boots run a bit small. We suggest purchasing a half size up from your normal shoe size. If you have any questions or concerns about the Bed Stu brand, please call (336-998-8800) or email (rivertrailmercantile@gmail.com) us for information.