Best Cowboy Boots | Best Cowboy Boots for Women
Best Cowboy Boots... on the market? Well, at the market in this case! RiverTrail recently returned from a buying trip to Atlanta, where we saw new and exciting trends in western fashion. When it comes to cowboy boots, the style diversity is always inspiring – just when you think designers have to be running out of ideas, they still manage to create fresh looks. Not only did our forever-favorite brands like Old Gringo, Corral, and Lane show up with unique designs, we also found new boot brands that reflect the bold, unique, vintage inspired style we love to carry at RiverTrail. As we walked the show, there were a few trends that popped up at almost every booth. Read on to see if any of these fashions catch your eye. Some trends may live strong, some will die out, but one thing is for sure – cowboy boots are here to stay!
Fringe Boots

Fringe Boots were EVERYWHERE y'all, and we have to say, this is one western fashion trend we love! There is something so exciting about the movement and texture of fringe – it seriously makes the boots come to life! One of our favorite fringe boots is the Old Gringo Kally Brass (L1127-1). This look reminds us of a fun spirited, carefree gal who has a big heart and even bigger dreams. We love this type of girl, and we love fringe cowboy boots!
Skull Boots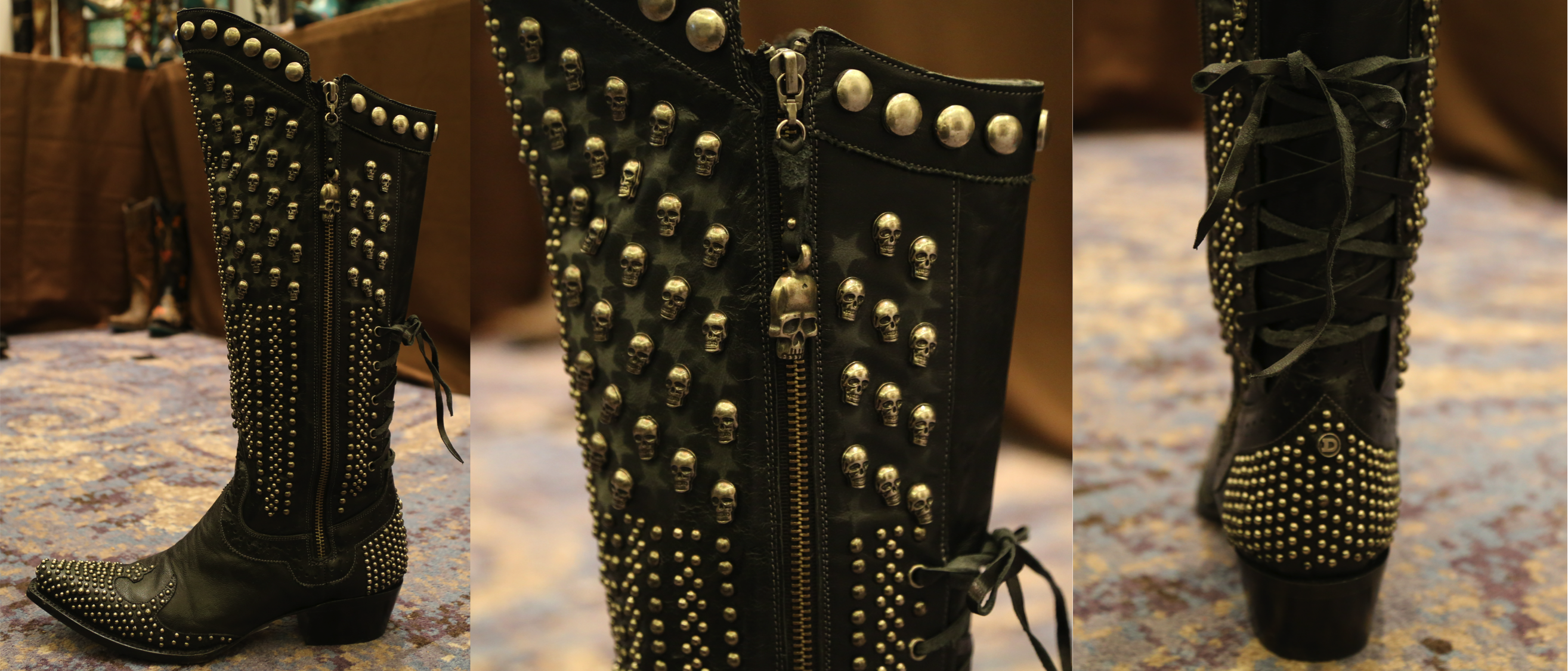 From the romantic to the dangerous, our next popular trend is Skull Boots. Ladies, the best news is, you DO NOT have to own a motorcycle to rock these killer cowboy boots! From studs to embroidery, the skull designs we saw were rugged, edgy, and all together fabulous. For us, the most exciting look of them all (and there are lots!) are the Lane for Double D Ranch Killa Biker Boots (DD9006A). These gorgeous black leather cowgirl boots feature skull hardware, silver studs, lace up backs, and double side zippers. Seriously?! Totally swoon worthy! All we can say is watch out for the women who jump on this cowgirl boot trend – they mean business!
Colorful Boots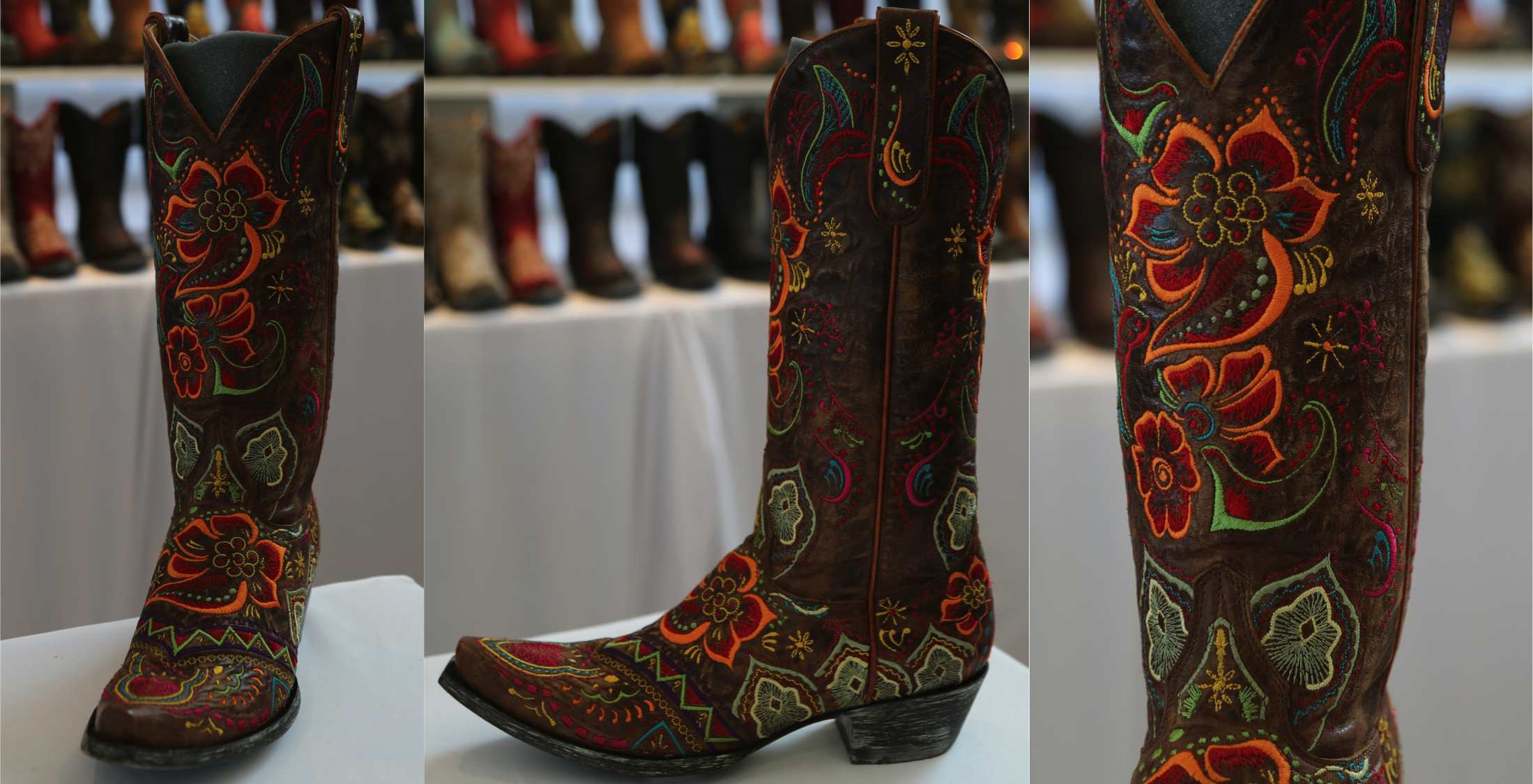 RiverTrail has said it before – anyone can buy and wear a plain brown pair of cowgirl boots, but it takes a bold, confident gal to rock a colorful pair of cowboy boots. Every boot brand we viewed clearly has a team of designers who are not afraid of color. From lime green to hot pink (and every color in between), the colorful boots are always the ones we pick up first. Why buy color? Because you're buying a unique product. Boots like the Old Gringo Olivia Brass (L1629-3) will merit tons of attention, and for good reason. Color us happy, we love bright boots!
USA Boots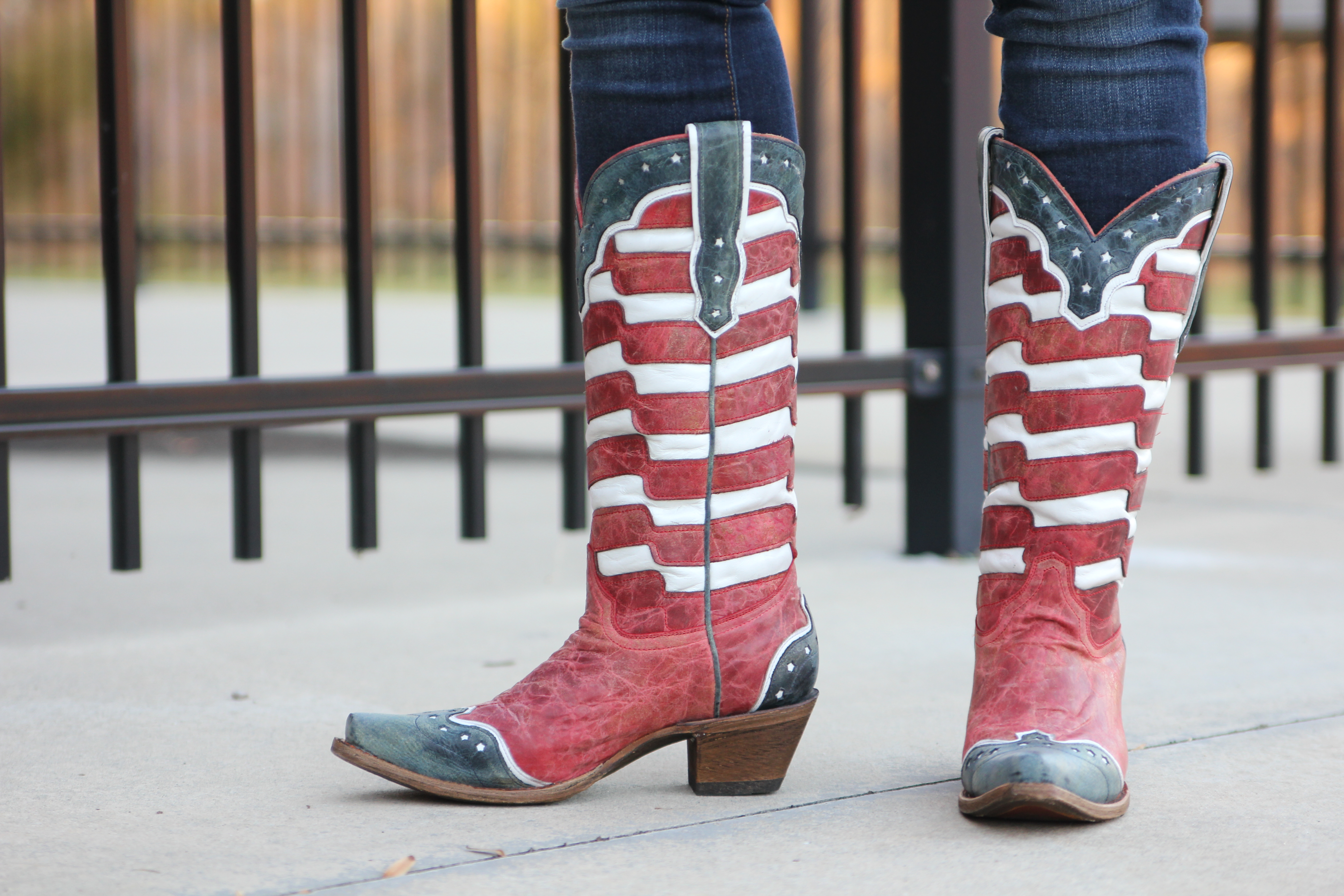 American pride was certainly present at the shoe show, as several vendors sampled cowboy boots in red, white, and blue. We were instantly drawn to the variety of star and stripe designs that brought our American Flag to life. The USA cowboy boot trend has been around for a while, but what we have learned is that they're not just for the Fourth of July or Veterans Day. You can rock boots like the Corral USA (A2515) anytime, whether you're heading out to a country music concert, a rodeo, or girls night out! We love the look of USA Cowboy Boots with a red dress or a vintage white tee and washed out blue jeans. Team America!
Remember, you make your own fashion rules, so if the cowboy boots fit, and they make you happy, wear them!